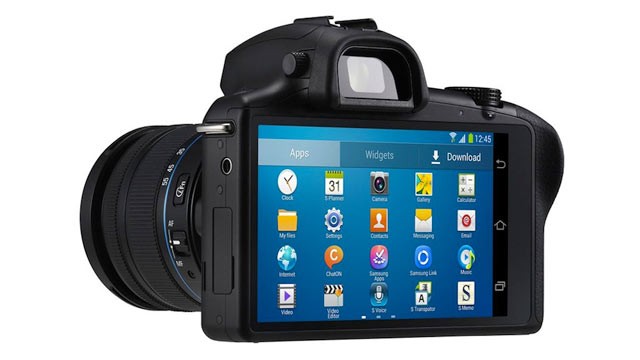 Samsung's Galaxy S line of Android phones, including the recent Galaxy S4, has been a hit for the company. But now the company is hoping to bring that Android success and familiarity to other products. Or at least allow Android users the ability to get to their Android apps across a number of devices, even if they run on a Windows PC or a camera.
At a press conference in London today, the company unveiled two new products that incorporate the Android operating system: the ATIV Q Windows 8 tablet and the Galaxy NX camera.
Samsung's ATIV line of tablets have all run Windows 8 (unlike its Galaxy Tab or Galaxy Note line, which are powered by Google's Android software). With the announcement of the ATIV Q, users can own a tablet that switches between Windows 8 and Android on the fly. Patrick Pavel, the VP of European ATIV Marketing for Samsung, added that Android apps can be pinned to the Windows task bar, as well as opened directly in Windows 8.
The idea of Android running on a Windows 8 PC isn't entirely new -- Lenovo and Asus have done similar things with allowing Android to run separately. However, Samsung's new features make the apps and the Google operating system more integrated than other products.
While converting between Android and Windows is a big draw for the ATIV Q, the tablet itself can also convert. Flipping the screen up reveals a keyboard hiding underneath. The display can also be oriented completely parallel or perpendicular to the keyboard, depending on whatever configuration is best for the user.
The display itself is impressive too. Samsung calls it QHD+, cramming 275 pixels per inch on a 13.3 inch display. The tablet itself is only 13.9 mm thick, weighs in at 1.29 kg (approximately 3 pounds), and claims to have nine hours of battery life.
The Android love doesn't end there. Similiar to the Galaxy Camera released last year, Samsung unveiled the Galaxy NX camera. The camera is also outfitted with Android and allows photographers to download apps like Instagram or Facebook and instantly share their photos over the camera's 4G LTE connection.
"You will always be connected so you can share photos and HD video anywhere and anytime," Jean-Daniel Ayme, the VP of European Telecom Operations, said at the event. He also said it is the world's first interchangeable lens camera with 4G LTE.
As for the hardware itself, the camera includes a 20.3-megapixel sensor and a large 4.8 inch display. The camera also houses a 1.6GHz quad-core processor and a separate image signaling processor that gives it more speed and power compared with other digital cameras. No U.S. pricing or availability was released, but expect it to cost more than the $500 Galaxy Camera, which was released last year.