Page 1 of 4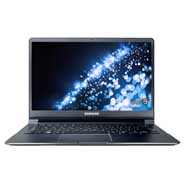 Samsung ATIV Book 9
Samsung might not be offering Ultrabook models with Intel's power-efficient fourth-generation Haswell processors until the fall, but the ATIV Book 9 performed well without it. With its third-gen Core i7, Samsung's latest ultraportable turned in better battery life than its predecessor, and serviceable benchmark scores.
One of the most recent arrivals at the CRN Test Center, the ATIV Book 9 is one of a series of new ultralights from Korea. In all, Samsung offers seven 13-inch ATIV models (formerly known as Series 9) ranging in price from $999 to $1,699 list. Two $999 entry-level models are offered with 128-GB solid-state drives plus different versions of the Intel Core i5 processor at different clock speeds and Intel HD Graphics editions. Four models are available with faster, more powerful Intel Core i7 processors and options for upgrading to 8-GB RAM and SSD capacity of 256 GB. Operating system options are Windows 7, Windows 7 Pro and Windows 8. The test unit was running the latter.
All ATIV Book 9 models have two cores. Between its Core i5- and Core i7-based models, Samsung's clock rates (without Turbo Boost) range between 1.7GHz and 2.0GHz. Its most powerful, the ATIV Book 9 NP900X3E, comes with the 2.0-GHz Intel Core i7 3537U and is the unit we tested. All but one of Samsung's seven 13-inch Ultrabook models come with Intel HD 4000 Graphics. The exception is the ATIV Book 9 model NP900X3D, which includes a 1.4-GHz Intel Core i5 2537M CPU and Intel HD Graphics 3000 and 1,600-x-900 maximum resolution. Resolution of Samsung's $1,399 high-end model tops out at 1,920-x-1,080, full HD.
NEXT: Power, I/O And Performance
1 | 2 | 3 | 4 | Next >>